Inside the check out procedure you have the opportunity to choose various payment options listed below.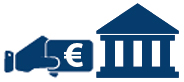 Payment in advance
If you choose payment in advance, please transfer the entire amount to our bank account by SEPA transfer. We will only send your order to you once the correct amount is visible in our bank account.

PayPal payment
PayPal is an online payment service that enables you to pay safely, easily and quickly for your online orders – at no charge. After successful payment your order will be prepared for shipping immediately.

Credit Card payment
Pay conveniently and securely with your credit card. Credit card payments are done through PayPal, however, you do not need a PayPal account and there are no additional fees. You have the choice to pay with the following credit cards: MasterCard, Visa Card, Amex and Diners Club. Instead to login to Paypal account, click the button "Pay by Debit or Credit Card" at the bottom, and follow the instructions:
Paysera payment
Paysera supports various localized online payment of following countries: Lithuania, Latvia, Estonia, Poland, Bulgaria, Belarus, Belgium, Slovakia, Czech Republic, Sweden, Finland, and safety pay as well as WebMoney for all other international payments!
Austria: eps
Germany: giropay
New Zealand and Australia: POLI
International: safety pay
International: WebMoney

Cryptocurrency payment
Pay with Bitcoin (BTC), and other cryptocurrencies optional.
About CoinGate: CoinGate is a payment gateway for blockchain payments. Having started off in 2014, we have made it our mission to grow adoption of cryptocurrencies on a global scale. With this in mind, CoinGate provides a reliable payments infrastructure that caters for the needs of both merchants and their customers: accessible, convenient and customer oriented. To bridge the gap between cryptocurrency owners, who are looking for ways to use their coins for purchasing goods and services, and merchants, that can easily utilise the benefits of blockchain to grow their businesses, are among our top aims. The benefits of blockchain-based payments – cost-efficiency, speed, privacy and security – in our belief tackle a lot of shopper pain points and serve a huge number of business cases. As such, CoinGate was built with the same values at the core, satisfying both sides of commerce.